Temples Related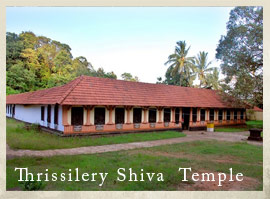 Trisillery temple
- It is inextricably linked with legends and folklore to Thirunelli temple. The belief is that the Pinnappara at Thirunelli is a continuous stretch upto Thrissilery. Therefore it has been a practice that those who come to do the ancestral rites at Thirunelli, first visit Thrissilery and make a Vilakkumaala offering there. There exists an old route which traverses Narinirangi Mala to connect with Trissilery Siva temple. In earlier days, all devotees who visited Trissilery used to undertake the arduous crossing of Narinirangi mala to pay respect to lord Vishnu and Brahma at Thirunelli. That journey was very dangerous and was comparable to the hardships of early

Sabarimala pilgrimages. This temple has been well described in the prose and poetic passages of Unniyachi Charitham. In the 41st stanza of Kokila Sandesham also there is description of Thrissilery.


Kottiyur Temple
- There are numerous rituals and beliefs that link Kottiyur and Thirunelli temples. If one treks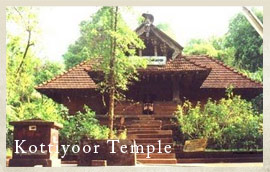 10 kms along the thick forest in the Brahmagiri valley in the north-west direction, he can reach Kottiyur. Now the pilgrims take the Mananthavady-Boys Town route to reach Kottiyur. Earlier, it was from Thirunelli that rice was brought to Kottiyur to meet the expenses in connection with the festival there. After the festival, the same was returned to Thirunelli Temple. Now separate celebrations are observed at Thirunelli and Kottiyur to commemorate the old customs.